How Rablab became a programmatic conversion machine with Receptive Measurement.
Challenge
Rablab is a Montreal-based digital marketing agency specializing in programmatic ad campaigns. These campaigns are often focused on a "bang for your buck" mindset since the automated nature of the ad buying allows for optimal pricing on every impression purchased. While this can be a very economical way to advertise a company, it can easily fall prey to banner blindness and low-quality impressions.
That's why RabLab prides itself on doing what they call results-driven programmatic advertising. Through better implementations and careful analysis of results, they're able to consistently achieve client objectives, whether it's awareness or conversions.
As most of our innovative clients, RabLab is always on the lookout for new technologies and metrics to improve their clients' programmatic campaign performance. Programmatic campaigns end up buying impressions from a vast network of websites, and the quality of some of them can be questionable.
That's when they discovered Receptive Measurement, a tool allowing them to analyze any website's Receptivity level through a simple tag added to their ad containers. Rablab could then add another layer to their analysis of campaign results. They could now measure attention levels across all their campaigns and change their future ad placement tactics based on the results.
This analysis gave them an entirely new perspective on their core business. With the help of Receptive Measurement, they could explore new aspects of programmatic advertising they had never thought of before. The campaigns they were setting up for clients could bring them new types of results, and they could now pitch their services to different scenarios.

Approach
After using Receptive Measurement for six months, RabLab met with the Receptivity team to see just how far they could push the tool to further improve their results. That's when this kickass graph was presented: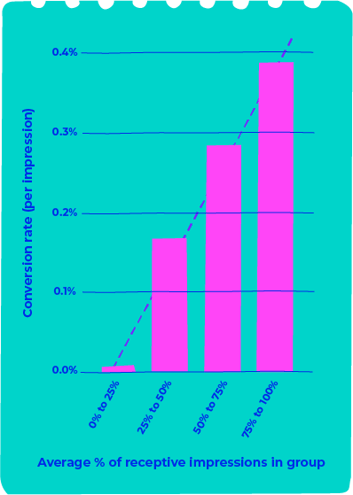 Through an analysis of recent RabLab campaigns, the Receptivity team discovered a strong link between increased Receptivity levels and conversions. Conversion rates saw a noticeable rise as the number of Receptive users increased in a distribution. This means Receptivity can be used as a predictor of increased conversion rates.
This led RabLab to purchase more Receptive impressions since they saw more conversions with this type of user.
Results
Rablab left that meeting with a much greater understanding of what generates performance and a new way to introduce this tool to their clients. Receptive Measurement now allowed the agency to invest their clients' programmatic budget more efficiently by reallocating their efforts and spending to get more Receptive consumers.
Rablab also uses Receptive Measurement to evaluate the quality of the inventory purchased after a campaign is over. It's an extra layer of analysis to make sure the data and metrics they use are correct.
Once again, users who are paying attention to their devices are the future of ad tech. That might seem obvious, and it is, but the only reason why it hasn't been applied before is that the industry didn't have the right tool to do it. Receptive Measurement is the only tool that allows you to find the websites with the best levels of user attention. There's no doubt about it, and your next campaign could use more Receptive users.