Receptivity And Conversion Rate, A Match Made In Heaven.
Challenge
This is the story of a car manufacturer and one of the biggest programmatic agencies in the world, MIQ. Selling cars is a marketing game, and these brands are constantly on the lookout for new technologies to help them reach their goals.
MIQ reached out to us as they were intrigued about our attention metric regarding its potential tie to conversion rate. While people don't really purchase cars online, conversion rate is still a major metric for car brands since it measures meaningful actions such as booking a test drive on a website or locating a dealer, for example, which does have a strong link to actual purchases.
The first test was simple, pick a campaign they had already been running, analyze its Receptivity level and see what insights they could get from it.

And as with all our clients, they were blown away by the results.
Approach
The Receptivity script was applied to the car manufacturer ad containers for 30 days. Once the campaign was completed, MIQ and Receptivity ran a correlation analysis between the placements and their conversion rates.
Results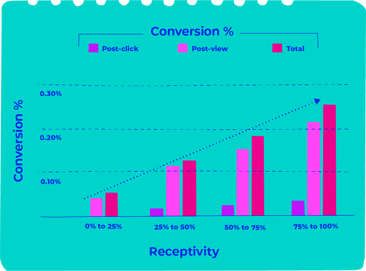 Isn't that graph just a beautiful thing? It's pretty clear. As the Receptivity levels increased, the ads converted more often. There you have it. You've heard us say it before, but we'll say it again: real, attentive humans convert more.
The most important part of an ad campaign is making sure that the user you're showing your ad to will be paying attention to it. There's only one way to do that, it's called Receptivity 😎.