Millions of Impressions Can't Lie
Challenge
Picture this, you're going to bed, you're about to fall asleep, and your brain wakes you up with a nagging thought. We all have that one campaign, high volume, constantly running with a wide reach. It's performing well, but what if it could do even better?
The creative is good, and the placements are correct, but you feel like you could get more if you had the right tool to assess it. A large agency recently came to us to find better ways to validate data for one of their telco clients. This type of situation is where our Receptive Measurement tool really shines. It allows you to analyze the Receptivity levels of your current campaigns to make sure you're buying the right placements. So we were like, add this line of code to your ad containers, keep the campaign running for 90 days, and we'll tell you your soulmate's astrological sign show you how to optimize your campaign even further.
Approach
We tracked this campaign for 90 days via our easy peasy "just one line of code in your ad container" tool, Receptive Measurement. Everything else about the campaign was kept the same. This test included millions of impressions, so yeah, this is a big test.

Results
First things first, the agency are real ballers. Their campaign had an astounding 70% Receptivity level, one of the highest we've ever seen. We're calling it now, they know what they're doing, but of course, they also found plenty to improve.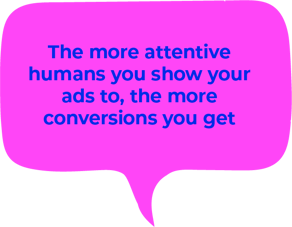 Next is a trend we've been noticing a lot in all our tests, Receptivity levels seem to move in lockstep with conversion rates. Basically, the more attentive humans you show your ads to, the more conversions you get. It always sounded like a given to us, but we're glad to see the cold hard stats confirming our bias.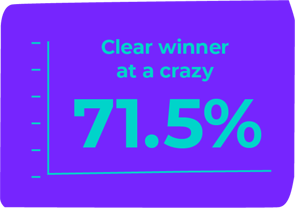 Receptivity levels also followed dayparting in terms of impression volume. The all-time highs were on Fridays and during weekends, which are the typically singled-out days for this type of campaign. They also observed that certain ad formats had higher Receptivity levels than others. While none were low per se, the 300x250 came out a clear winner at a crazy 71.5%.
So what happened next? Well, it's simple. the agency moved to include more of the high Receptivity ad formats and times and found a new way to validate their data across all ad campaigns.
But you know what really warms our hearts? It's that the agency and their big telco client can sleep soundly at night. If their brains ask them about that one campaign, they can just tell themselves that Receptivity has it covered. And yes, yes we do.